Having a website is great, but it is completely useless if you don't have a good flow of traffic coming to the website. There are ways to pay for traffic (like Adwords or social media adverts) and there are ways to drive free organic traffic. SEO is one such way to get traffic without paying for the privilege.
Doing SEO may be complex and somewhat of a dark art, it can certainly be competitive to get ranked and the cause of some heart-ache, but it is – in my opinion – the best place to earn website traffic.
Here is a few reason why I think it's worth investing in SEO.
SEO Is A Growing Market
"SEO Is Dead!" is a phrase you'll hear bandied around from time-to-time. In actual fact, that is far from true. Let's take Google (who are the big search engine) – the number of searches per year has increased year-on-year for Google. This is because more and more people are getting online, plus people are getting online more often too, thanks to smartphones.
Smart Insights – the website by digital marketing guru, Dr. Dave Chaffey (who literally wrote the textbook on digital marketing) – have projected plenty more growth for Google searches going well into the future (see graph below), so it's a safe bet to say that SEO is a worthwhile marketing activity.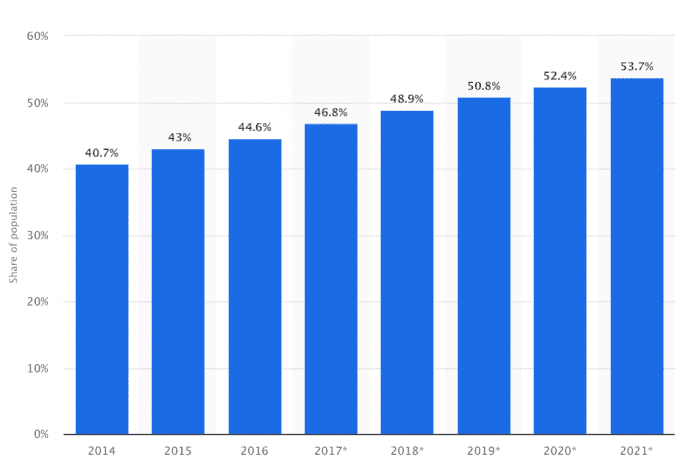 Smart Insights 'Google Searches Per Year' Graph With Projections
People Find You With SEM
When we're marketing, most of the time we're trying to put ourselves in front of our target market. We're interrupting them while they're trying to consume some other content, whether it's on radio, TV, Facebook, Youtube or wherever – we try to divert their attention onto our advert or content. But, with search engine marketing, the user is finding us. They search for something, then they are presented with several options. If they choose your website, it's their choice (for the most part).
The Google Analytics reports for search traffic, in my experience, always shows that organic traffic is the highest quality traffic. This traffic has more page visits per session, they spend more time on the site and convert most often. That's the bottom line.
SEO Is Driven By Intend
Why is search traffic such high-quality traffic? Users are searching for the solution or information that your website has and they're finding you at the exact moment that they want it. Very often they are ready to purchase or to make an inquiry.
Whereas with social media (for example), we might target the right people and try to engage them, but it's more about divergence and less about being there at the right time for your potential customer.
Search Engine Marketing Is Driven By User Intent. It Doesn't Mean Interrupting A User.
Click To Tweet
SEO Is Cost Effective
You might pay a professional to work on your websites SEO, so it's not always free. But, when it's done effectively it can keep on delivering traffic far into the future. Plus, you never have to pay for the volume of traffic you're earning from organic search – so, while you may keep on paying SEO consultant fees, your traffic will begin compounding over time. The value will become obvious before long.
Compare this to pay-per-click advertising. If you stop paying, you will get zero traffic from this source. Your traffic will only increase if your budget increases. It might be immediate traffic, but over time it's very costly – compared to SEO.
Conclusion
If you want to invest in your websites future traffic, start SEO work now. It's a growing market, delivers high-quality traffic and these visitors are most often ready to take-an-action at the exact time they find your website. SEO is arguably the most cost-effective source of traffic for your website and is actually very under-utilised in many spaces. So, go and get yourself some of this traffic!
Is SEO Worth Investing In?
was last modified:
February 8th, 2018
by
Hey, I'm Ian and I'm an SEO specialist from CO. Meath, Ireland.